Taylor Swift attended the Los Angeles premiere of her Concert Film Era Tour. She posed for photos with her crew and Beyoncé while wearing a stunning outfit. Scroll down to see what Taylor wore!
Taylor Swift attended the world premiere of her concert film Taylor Swift: The Eras Tour at the AMC The Grove in Los Angeles. The singer, songwriter, and composer arrived to the event with dancers and the Eras Tour band, the directors of the concert film, friends and family. Beyoncé was also there at the event, and the two stars exchanged photos.
Decoding Taylor Swift's Blue Dreamy Red Carpet Appearance
Taylor Swift captivated the audience as she took a step back in time, embracing her legendary 1989 era during the screening of her Eras Tour film. The singer arrived in a lovely blue Oscar de la Renta gown, evoking the idea of a modern-day Cinderella.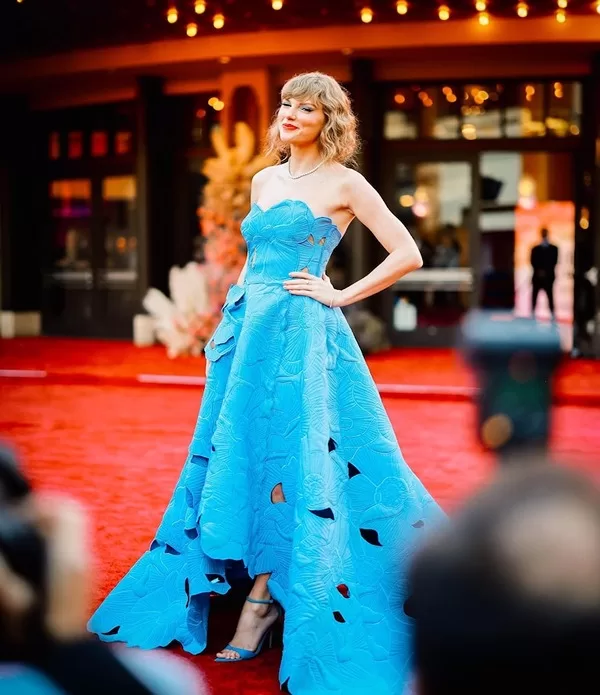 The delicate gown had elaborate lace design and a flowing silhouette, making her look like a real-life fairy-tale princess. Taylor's dress selections are notorious for garnering attention, and this red carpet outing was no exception.
Accessories And Makeup
She accessorized the gown with matching stilettos, diamond tennis bracelets and diamond studs, and statement rings. A glittering matching Cartier necklace complimented her magnificent gown, adding a touch of elegance and glamour to her look. Finally, she opted for a bop hairstyle, grey-blue eyeshadow, winged eyeliner, the singer's  reddened cheeks, dazzling highlighter, and feathered brows. The singer did not disappoint, sporting her signature red lip color, which lent a classic touch to her overall look.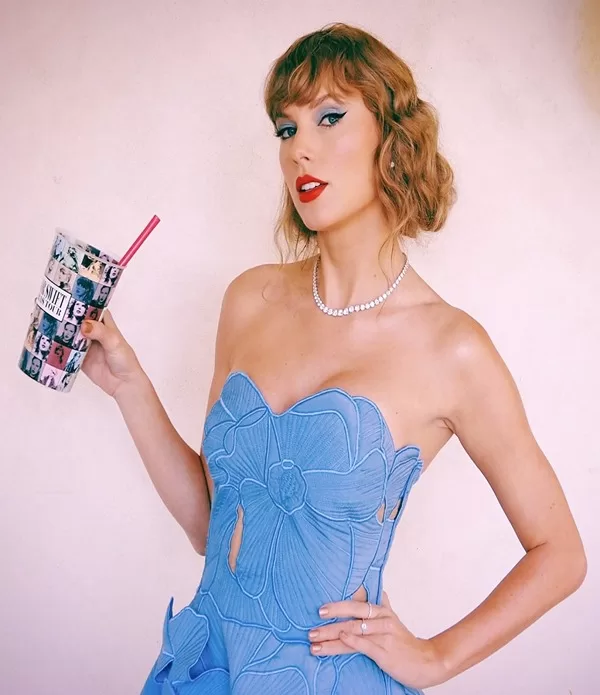 Beyoncé Attends The Premiere Of Taylor Swift's Concert Film
Beyonce paid a surprise visit at Taylor Swift's The Eras Tour film premiere in Los Angeles. The two divas' fashion sense did not disappoint. The Speak Now singer uploaded an Instagram image with Beyonce in a carousel, highlighting the legends' distinct red carpet looks.
Beyonce wore a skintight black catsuit with long sleeves and a square neckline to the red carpet. It was highlighted by a mirrored chrome breast plate, which was worn with futuristic sunglasses and massive black boots. Her hair was styled half-up, half-down to match the rest of her glam – glowing skin and glossy lips.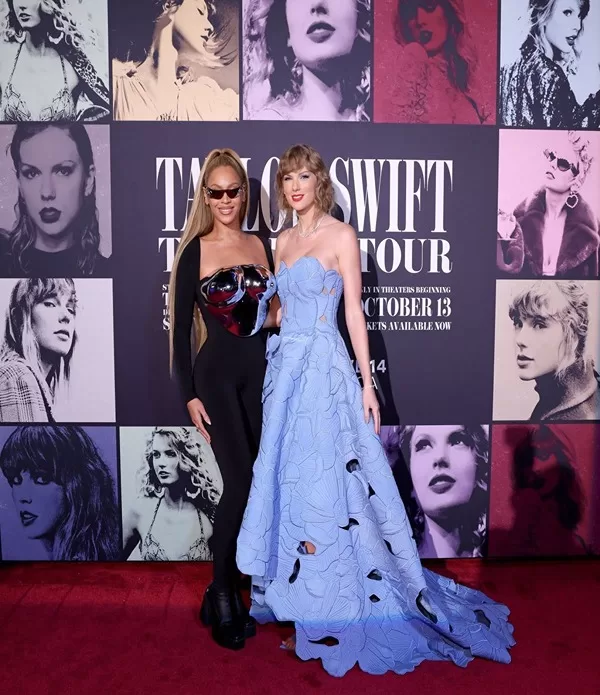 Taylor described Beyonce's appearance at her premiere event as a "actual fairytale." Having been influenced by beyonce, I'm glad I won't know what my life would be like without her." She's taught me and every artist here to challenge conventions. She has a sense of generosity. She is adaptable and tenacious. The fact that she showed up tonight was like something out of a fairytale for me. She has been a source of inspiration for me throughout my career."