Ravi Teja, a prominent actor in the South Indian film industry entertains audiences with her impeccable acting skills. The actor is reportedly promoting his upcoming new film in Mumbai. Amid that, he recently paid a visit as a guest on the reality show, 'India's Got Talent'. Ravi's co-stars, Nupur Sanon and Gayatri Bharawaj will also accompany the actor at the show. India's Got Talent judge, Shilpa Shetty recently shared a video featuring her dancing with Ravi Teja to his song, 'Ek Dum Ek Dum'. The actress looked stunning grooving to the actor's song from his film, 'Tiger Nageswara Rao'.
Shilpa Shetty grooves on Ravi Teja's hit song at the show 'India's Got Talent'
Bollywood actress, Shilpa Shetty took to her Instagram handle to share a video of her dancing with the South actor, Ravi Teja. The actress looked stunning dressed in a yellow saree. Whereas, Ravi Teja on the other hand looked charming as he coordinated with the diva to perform similar dance steps. Sharing the video, she captioned it as:
"Hum toh ek dum fidaa hai; aur aap? @RaviTeja_offl; #InBetweenTakes #Setlife #BTS #happysoul #EkDumEkDumHookStep"
As soon as Shilpa Shetty dropped the video on her IG handle, Ravi Teja was quick to share his reaction to the same. His comment can be read as:
"Absolutely loved meeting you @TheShilpaShetty; and dancing with you on  #EkDumEkDumHookStep; was Lol hahaha"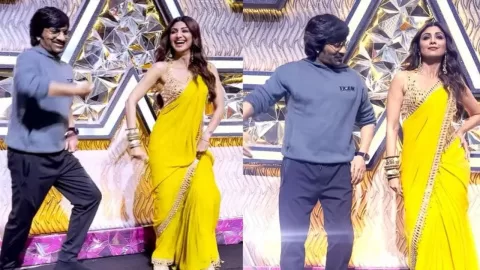 About Ravi Teja's upcoming film
The action-based thriller film, 'Tiger Nageswara Rao' is directed by Vamsee. The film stars, Ravi Teja, Nupur Sanon, Anupam Kher, Renu Desai, Murali Sharma in the pivotal roles. With its blockbuster cinematography, the film will be available in the theatres on October 20, 2023.